a great man died tonight
a great man died tonight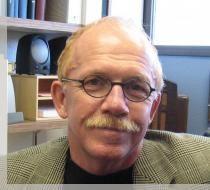 A great man died tonight …
Lynn Nielsen was great by the only measure that matters, that so many of us loved him.
We loved him for his courage, living and dying with multiple myeloma. Eventually it claimed his life, but it could never diminish his vitality or his humor or his eagerness for what tomorrow might bring.
We loved him for his faith, unconventional and genuine and exuberant, a faith that understood that God's desire for us is life in all its fullness, here and now.
But, above all, we loved him for his joy. Teaching was joy to him, that unique setting where teachers and students come together to challenge each other and grow each other and put personal gifts and skills to use to nurture the skills and gifts in another person. A most unselfish profession! His students, from Iowa and from all points of the globe, brought joy to him, and he to them. And he found and made joy in his colleagues, my wife among them. He was the one who brought my wife into the College of Education and the University of Northern Iowa family, and for that she and I are most grateful.
And he found joy in making beauty, extraordinary beauty for all of us to relish! He made beauty with his music, playing organ for worship or jazz piano for the delight of the patrons of Elms Pub at New Aldaya Lifescapes and for concert-goers at other venues including our church. He made beauty at his home on Tremont Street — lovely backyard gardens, an interior decor warm and inviting and eclectic and elegant. He made beauty with his parties! Good food, good drink, extraordinary dishes and desserts, all carefully prepared and arranged by Lynn, the consummate host, the consummate friend. Parties for laughter and for music and for bringing people together, for making new friends and for treasuring every happy moment with friends old and dear.
He was a friend, old and dear, to so many. We loved him, for many good reasons, but we would have loved him regardless, just for how he loved us and for how he loved life. No one can replace him. No one could. No one should.
It is grief for us to lose him. But what joy it was to share some of our life with him!