reminders of an (almost) perfect day
reminders of an (almost) perfect day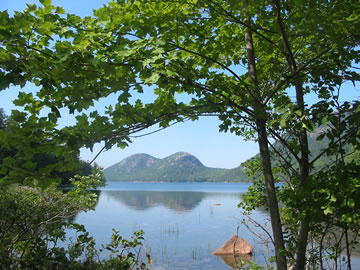 This is one of my favorite photographs from a five-mile hike over Penobscot and Sargent mountains in Acadia National Park. It frames the reflection of the Bubbles overlooking the north end of Jordan Pond. I like the way the photo turned out, granite mounds reflected in the still waters, framed by green branches and a half-submerged rock in the foreground.
Stoney, our two-and-a-half year old Australian Shepherd, accompanied me on the hike and we both had a great time that day. At least I know I did!
I had been anticipating and planning this day for a year. Each year for three years, Stoney and I have done a hike in the Jordan Pond area. Last year I heard about Sargent Mountain Pond and decided we needed to see it! The pond lies between the two summits and offers both unusually beautiful views and a refreshing rest stop mid-hike. Here's a view of the pond …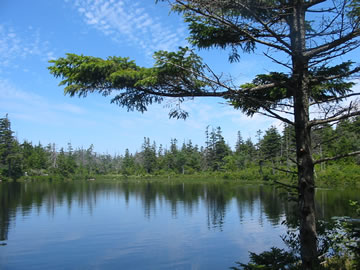 As Stoney and I headed up the trail from Jordan Pond House, the Pond and the flanks of Penobscot Mountain to the west and Pemetic Mountain to the east of the Pond were engulfed in low-lying clouds. But the clouds gave way to strong sunlight as we made our way onto the summit ridge. The day was everything I had anticipated … and more. The climbing was challenging and exhilarating; Sargent Mountain Pond was a delight; and the views from the top of Sargent were an unexpected treat. It was an (almost) perfect day! And a day I will remember for a long time … at least until next year and our next hike!
(Click on any photo to see a larger image!)