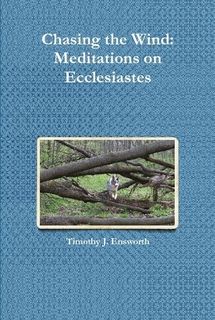 I have published my first book entitled, Chasing the Wind: Meditations on Ecclesiastes. It is available at lulu.com. Here is an excerpt from the preface:
Ecclesiastes is a strange and wonderful book. It is a strange book because of its startling cynicism and words of wisdom that offer very little of the solace we might expect from sacred scripture …

And yet, Ecclesiastes is a wonderful book, precisely because it is strange. Like Job, and like Jesus, it will not let us fall back on ready answers or take comfort in a religious orthodoxy that satisfies our need for order and predictability. The Philosopher takes us to a place well beyond the limits of our understanding, well beyond our capacity to know and do and control our own destiny. The Philosopher, like Job, and like Jesus, leads us well past the borders of our comfort zones to the place where God — and God alone — is.